Mobile to overtake fixed Internet access by 2014" was the huge headline summarising the bold prediction from 2008 by Mary Meeker, an analyst at Kleiner Perkins Caufield Byers who reviews technology trends annually in May (see latest KPCB mobile technology trends).
Well, we're now past the mobile Tipping Point as this report from comScore shows. So it's no longer a case of asking whether mobile marketing important, we know it is! It's now a question of using the statistics to understand how consumers behave when using different types of mobile devices and what their preferences are.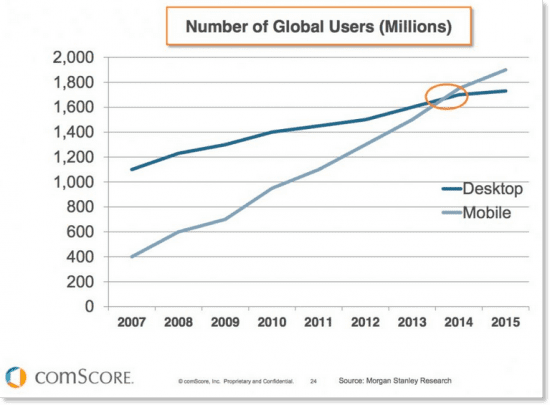 Google now gets more search queries in the U.S. from people using mobile devices such as smartphones than it does from people browsing the Web on PCs.
The company announced the change at a digital advertising conference on Tuesday, according to media reports. Google executive Jerry Dischler said that the shift to majority mobile searches has occurred in 10 key markets, including the U.S. and Japan.
Mobile activity on social media has grown by 55 percent over the past year.

It has also accounted for 31 percent of all growth in Internet activity over the same period.

Facebook alone accounts for 24 percent of all mobile activity online and its primary app is responsible for 18 percent.